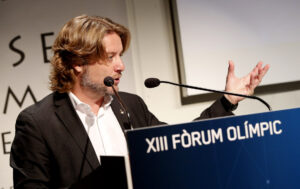 The official welcome was given by David Escudé, Sports Councillor of Barcelona City Council and Provincial Deputy of Barcelona, and by Gerard Esteva, President of the Catalan Sports Federation Union (UFEC).
Giacomo Modolo, head of eSport projects at the IOC, has opened today's session of the XIII Olympic Forum focused on 'The impact of emerging sports and disciplines on a global world'. Modolo has highlighted the importance of the Agenda 2020, which establishes the strategy to be followed by the International Olympic Committee for the future of the Olympic Movement, emphasising several elements: the new sports or disciplines that have been added to the Olympic programme or that have applied for it, gender equality in sport in general and in Olympic sports in particular, the importance of media and how they address emerging sports and gender equality, and the current situation of e-Sports in the Olympic Movement.
Tomorrow we will resume the e-Sports discussion with gamer Esteban Serrano – AKAWonder at a round table where arguments for and against e-Sports will be presented.
This morning's round table was moderated by the journalist Joan Manuel Surroca and counted with the participation of Blanca Nualart, in charge of gender and transversal sports programmes of the Catalan Sports Council, Joan Porcar, CEO of RPM/MKT, Susana Closa, manager of Barcelona Sports Institute, Kira Menén, president of the Catalan Federation of Korfball, Susanna Soler, professor at the National Institute of Physical Education of Catalonia (INEFC), and sports journalist Maria Guixà. The participants have discussed topics such as the existence of male and female sports or whether certain sports must be practiced by men or women, whether mixed-sex sports are the solution to obtain gender equality, the need to empower women in management positions within sports entities and institutions, the models to be followed to make female athletes more visible, and, especially, the basic education for gender equality, i.e. removing social barriers to sports development both for boys and girls.
The afternoon session started with a presentation by Maribel Zamora, president of the Catalan Volleyball Federation, who described the current situation of beach sports, as well as their modalities and contributions.
Raúl Chapado, president of the Royal Spanish Athletics Federation, Valerio Cianfoni and Leandre Negre participated in the round table, which revolved around the measures taken in traditional sports in order not to lose sight of new sport trends.
The second session of the afternoon was opened by Ramon Basiana, who talked about the most recent large sports event in Barcelona, the World Roller Games. And the day closed with a round table involving Alba Gamell, May Peus and Lluís Giner, representatives of emerging sports such as beach tennis, competition climbing and winter sports.